Source of document to be scanned
Scan2x can scan paper and electronic documents via several methods and devices:
Electronic documents – PDF, JPG, TIFF, BMP, XLSX, PPT, DOCX, MSG, HTML
PDF, Excel sheet, Powerpoint presentation, Word documents, Email .MSG files, existing .HTML filles, or images can be processed by Scan2x to produce intelligently indexed and routed output to help with business functions. These electronic documents can be selected from a folder under user instruction or automatically.
The Scan2x system also has the ability for a person to drag-drop a file from one's desktop to the import file browser as shown in the screenshot below.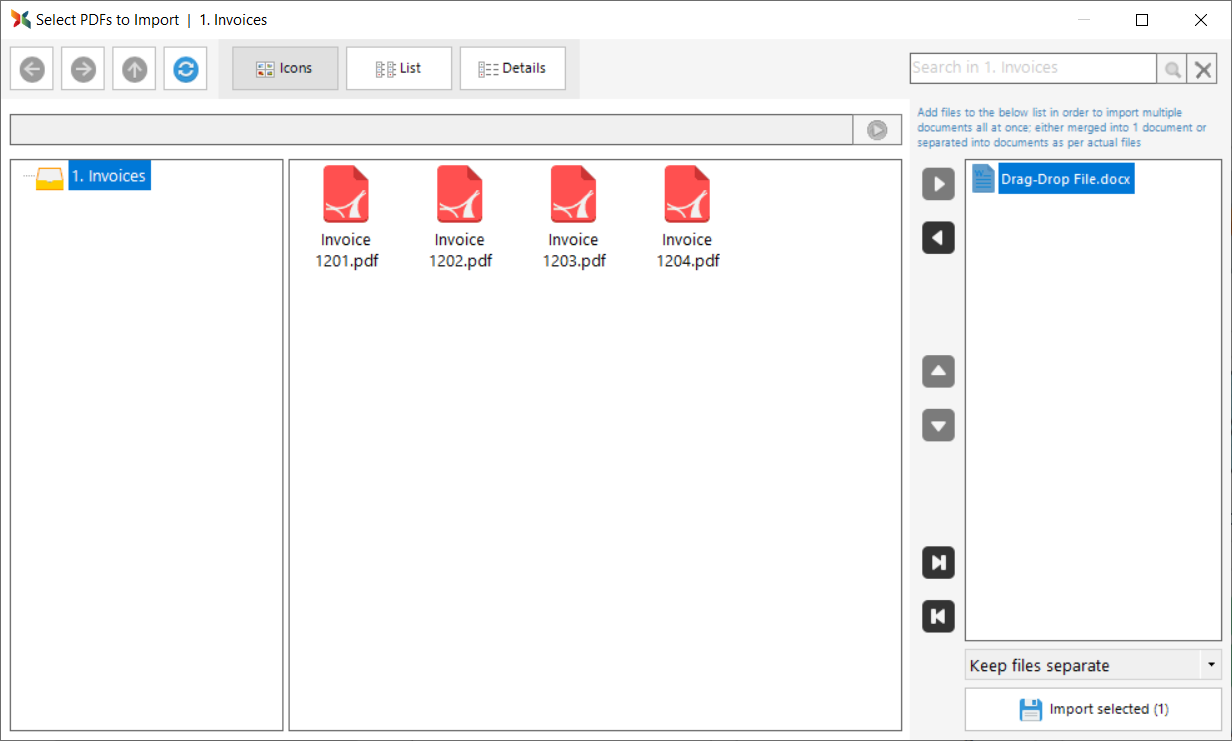 The Windows-based kiosk version of Scan2x can have up to four scanners connected to it at any one time – other versions will run on Canon network scanners and imageRUNNER Adv Gen3 or DX multifunctional devices. This allows for the ultimate versatility when scanning different types of documents.
For example, standard A4 or Letter size documents are handled by most scanner models, but the same cannot be said for documents that are either very small (e.g., visiting cards, point-of-sale receipts), stiffer than normal (e.g., passport documents, plastic identity documents like identity cards or driving licences), or oversize documents like A1 or A0 plans. A flatbed scanner can also be connected for scanning of book pages or 3D object faces.
In the PC version, by having multiple scanner types available simultaneously it is possible to create one output file that includes documents from different scanners. Examples of uses of this technology:
ØScanning of a client file, which includes both A4-size paper and a copy of a plastic ID or drivers licence card. To produce one output document, it is possible to commence the scanning process with the ID card in a top-loading scanner with a straight paper-path, and then continue the same scanning process using a high-speed A4-capable scanner.
ØScanning of an environmental planning file, in which several oversize plans and drawings are mixed into a batch of A4 paper documents. In this scenario, it is possible to switch as necessary between A4 and A0 scanner units during the same scan process.
ØScanning of a page within a book-bound document - e.g., a passport, pilot's logbook or similar. A flatbed scanner unit can be used in conjunction with a regular document scanner to produce one final PDF for onward transmission to its destination by Scan2x.
| | | |
| --- | --- | --- |
| A top-loading, straight paper path scanner unit | A light production 260ipm scanner | A flatbed scanner unit |
| - | | |
The scanning of a document involves a few decisions that will affect your future ability to retrieve and work with that document. Scan mode, destination and accurate document metadata are all essential parts of scanning a document. By leaving these decisions in the hands of inexperienced users exposes us to inconsistencies in image quality, filing and classification methodologies and potentially incorrect metadata. The process of making these decisions every time a user scans a document is also a time-consuming process that is often underestimated. The reality, however, is that typically a user will rush through the scanning process, further degrading the quality of the metadata that accompanies the scan into final storage.
Scan2x allows us to create job buttons that define and automate a lot of the above considerations, thereby divesting the user of the responsibility of these decisions. Users benefit by being able to scan quicker and more accurately, and this reduces resistance to what was a previously lengthy, mundane task. The document repository benefits by getting consistent and accurate document classification data. The following image shows a screenshot of Scan2x home screen, showing some sample job buttons as examples: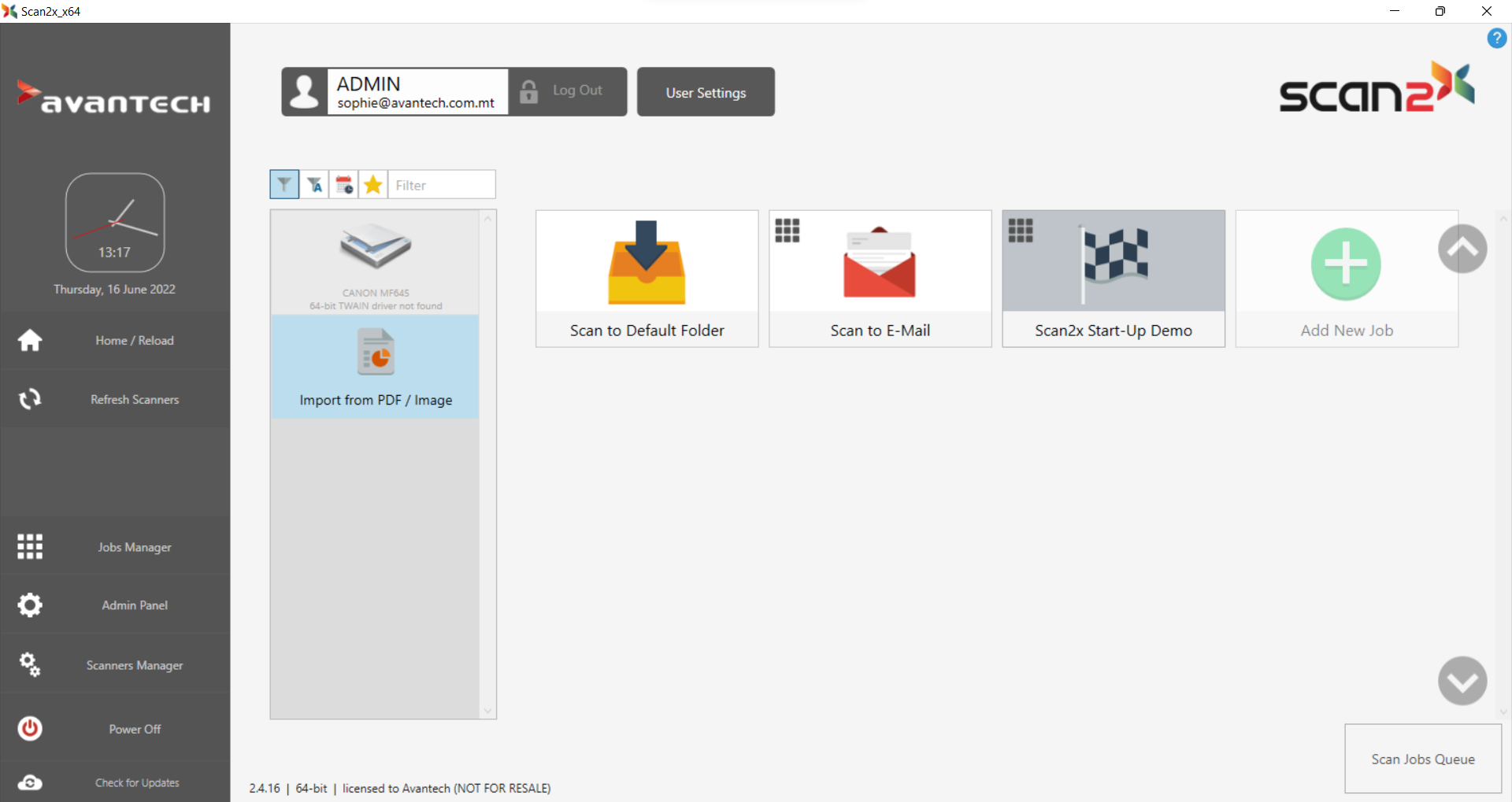 The user is simply required to choose the button that corresponds to the scan being made. All settings regarding scan modes, indexing, final document destination etc are set up automatically and the scan job is executed using the preprogrammed settings.
Jobs can be set up to expect a single document or multiple documents submitted in one batch that then will require splitting.
Single document jobs are presented to users as Individual Documents.
Documents that are submitted to Scan2x as a batch will be split as per the job configuration and displayed in the Split Documents interface.