Use the Help/About Tab to access contact information when requesting support on your Scan2x product.
You are also able to use the "Verify Database Schema" button to force an immediate check of the underlying Scan2x database.
The Start-up Demo Pack allows the user to download the demo scan jobs in order to test out the Scan2x system.
The Help Centre button, when clicked, directs the user to this help manual.
The "TeamViewer Support" button allows you to initiate a live secure support session with our technical team over the internet.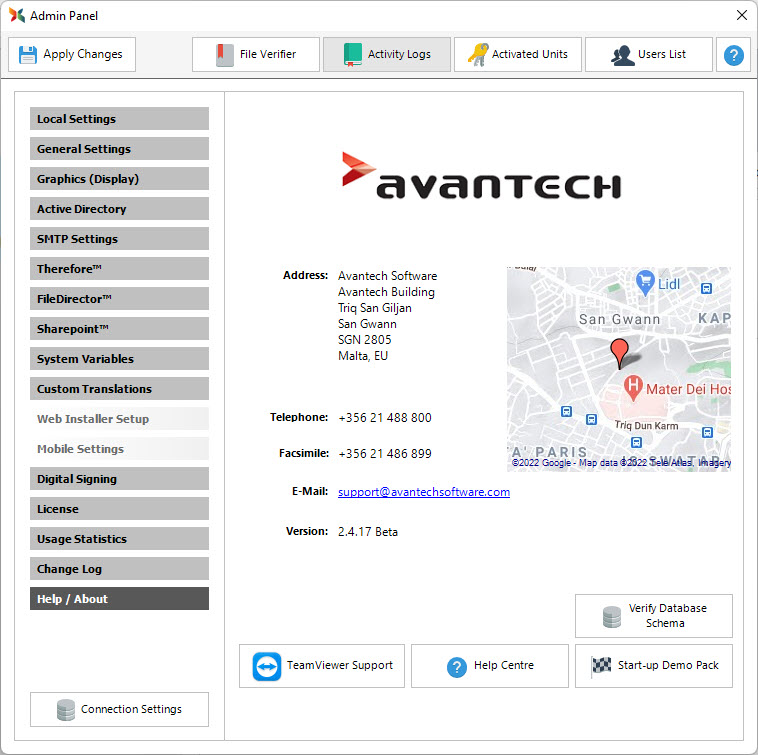 The following functionality will only work if the PC on which the Scan2x software is running has access to the Internet.
TeamViewer™ is built in to the Scan2x support infrastructure, allowing our support team to be "invited" to participate securely in a screen-sharing session with your Scan2x PC.
When you call or email our staff, they will ask you for your TeamViewer™ ID number and TeamViewer™ password as displayed on your screen.
This will grant our support staff a secure, once-only connection to your Scan2x PC, to view your screen and help you with any configuration. You may terminate this connection at any time.
TeamViewer™ works over standard Internet communication ports and does not require any special firewall settings.